NO EXPERIENCE IS NEEDED TO PLAY
There is plenty of opportunity for everyone to play on game day, regardless of skill, age, or athleticism.
About Grand Rapids Gazelles Football Club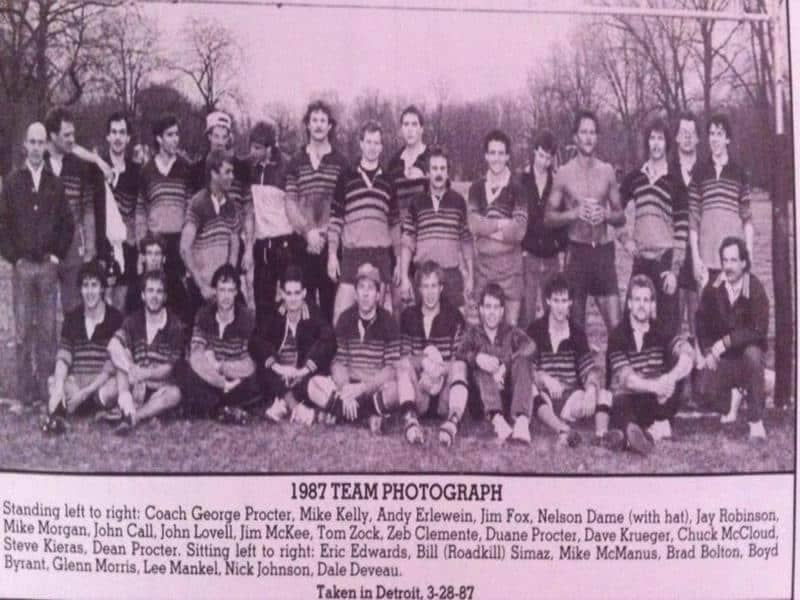 Established in 1978
The history of the Grand Rapids Gazelles RFC dates back to the spring of 1978. Ed Teliczan was playing with the Kalamazoo Harlequins and decided to start his own team in Grand Rapids. Success quickly followed for the club, and we have since acquired several national championships in both 15's and 7's play. The Gazelles compete in club competition regulated by USA Rugby. Currently we support teams at Men's Division III and a Women's Division II side. The Men's Division III and Women's Division II side are nationally ranked, and compete for National Titles each year.
The Grand Rapids Gazelles is more than just a competitive rugby club. We have established and work hard to maintain our rich culture. We have welcomed local talent as well as players from countries around the world. The team is comprised of players of varying ages, skill levels, and experiences; we truly welcome all who wish to share in the comradery and competitive nature of our club.
Located In The Greater Grand Rapids Area
Additionally, the Grand Rapids Gazelles are passionate about giving back to the Grand Rapids and West Michigan communities, as well as the local rugby scene. The club regularly participates in community engagement throughout West Michigan, facilitates fundraising events, and contributes back to the sport. We have partnered with several organizations including: The Ancient Order of Hibernians, the Leukemia and Lymphoma Society, the Patient Assistance Fund for the Blood and Marrow Transplant Program at Spectrum Health, the Humane Society of West Michigan, the Grand Rapids Parks & Recreation Department, the Michigan Youth Rugby Association, The West Michigan Sports Commission, the West Michigan Rugby Association, and Unreal Fitness. For more information regarding the Grand Rapids Gazelles, please reach out to
info@grandrapidsrugby.com
Tri County Areas
The Tri County Areas
CONTACT US TODAY TO PLAY, SUPPORT, OR SPONSOR YOUR OWN GRAND RAPIDS RUGBY FOOTBALL CLUB!
Our Team of Professionals
Andrew MacKenzie
Head Coach
Player history:
1998 – Rockford High School
2000 – 2014 – Grand Rapids Gazelles
2003 – Michigan select side
Coaching history:
2008 – Assistant coach for Rockford HS
Highlights: State Champions
2010 – 2015 – Head coach for Rockford HS
Highlights: State runner up – 2011, 13,  & 15
2013 – Present – Head Coach for Gazelles
Highlights: 2016 – Midwest runner up